Low levels
<30,000 spores/gram

High levels
35,000 – 95,000 spores/gram
Long term exposure to high levels can results in facial eczema symptoms.

Dangerous Levels
100,000 spores/gram
If you're putting the ram out in the next few weeks, consider treating rams and ewes with zinc capsules to protect sheep in case spore counts rise during the mating period, this will help prevent poor scanning performance and the catastrophe of clinical facial eczema in your flock. It doesn't take much of a drop in lamb production to justify the $4.83 including GST investment to protect a ewe during a critical time of the production cycle. Please get your orders for preventative facial eczema treatment in as early as you can to avoid potential supply chain delays.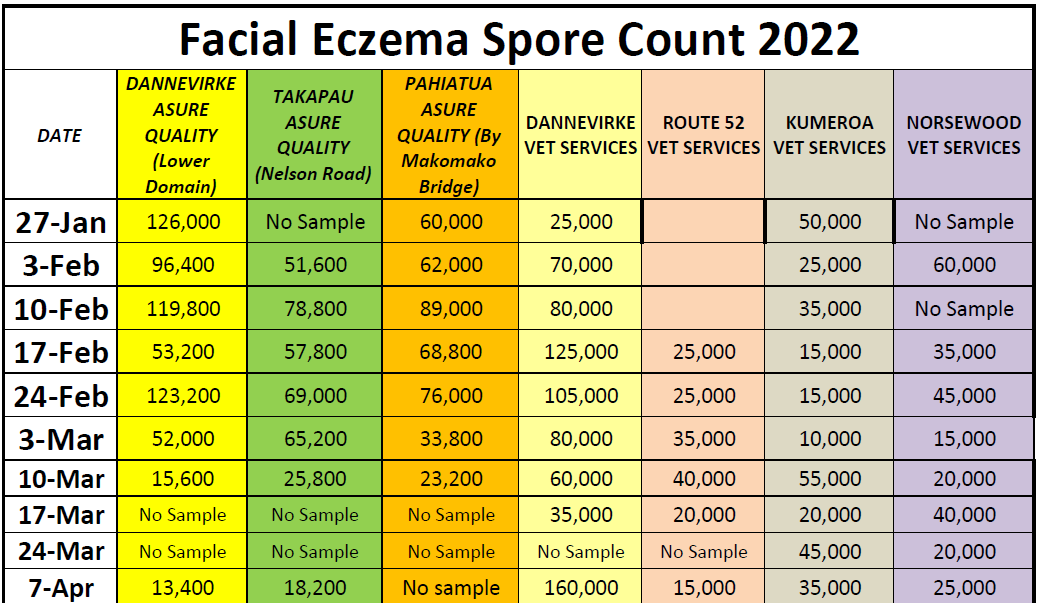 _____________________________________
4 April 2022
This weeks monitor counts show a bit of variation in spore numbers around the place, hopefully a few more cooler nights will help numbers start to drop off.
We are still seeing clincial outbreaks around so continue to be vigilent. Stock may show classic ulcerative skin lesions or other more vague signs such as reduced appetite, lethargy, isolation, and rapid weight loss. Once clinical symptoms are present liver damage has already occurred so zinc protection, avoiding rank pasture and sampling high risk paddocks are all still important ways to reduce exposure and damage from these toxic spores.
18 March 2022
Results from our monitor farms do seem to be trending downwards but we have been seeing clinical cases around the district so if you have ares of your farm that have previously been problematic we recommend bringing a grass sample in prior to grazing.
____________________________________
11 March 2022
Mostly they are trending downwards, but in some areas we have seen a spike upwards again. If you have any concerns about paddocks on your property, feel free to bring in samples for testing.
____________________________________________________
4 March 2022
This weeks counts from our monitor farms, they seem to have plateaued with some colder nights. In saying this we have had some high counts come through the clinic, so as always if you are planning to graze areas that have been problematic in the past we encourage you to bring a sample in to be tested.
_________________________________________________
25 Feb 2022
This weeks spore counts with town remaining a bit of a hot spot.
The most reliable way to protect your stock from facial eczema is by Zinc administration, this protects the liver from the Sporedesmin toxin realeased by the fungal spores so will reduce liver damage and secondary signs of photosensitization. There are 3 main methods of Zinc dosing:
Intrarumen bolus (FaceGuard) – most reliable protection as provides slow release cover for up to 6 weeks with sheep and cattle sizes available.
Oral drenching (Zinc Oxide suspension and powder) –  is required weekly.
Dissolved in trough line water (Zinc Sulphate powder) – only for use in cattle.
There is currently varied availability on some zinc products so please provide us with as much notice as possible for any upcoming orders.
__________________________________________________________
14 Feb 2022
This weeks spore counts found most areas sitting at moderate levels.
_______________________________________________________________
8 Feb 2022
Attached are our monitor FE spore counts measured just prior to the great soaking of rain we have had. Keep an eye out for an update later this week to see where the counts are heading, fingers crossed the rain has washed away some spores..
This season there is a new option for monitoring Zinc supplementation in dairy herds – Farm Source have developed Zinc
Check for Fonterra farmers; this is a bulk milk test that is simple and easy to request directly from the Farmsource website and returns a Low, Adequate or High result regarding adequacy of your zinc supplementation.
A LOW results indicates insufficient zinc supplementation to prevent liver damage and acute eczema symptoms.
An ADEQUATE result indicates at that point in time the majority of the herd are receiving enough supplementation to prevent liver damage and eczema symptoms.
A HIGH result indicates some individuals could be at risk of Zinc toxicity which can affect milk yield and cause then to become unwell.
If you are keen to request a ZincCheck, ensure your cows are 7 days into peak supplementation and you nominate Vet Services to receive a copy of the result so we are able to advise you further.
Have a great week!
__________________________________________________________________
31 Jan 2022
Hi everyone, it is already the time of year to start monitoring facial eczema spore counts!
Counts coming in have been low to moderate with the recent dry heat but it is important to have a preventative management plan in place as some decent moisture could cause these counts to shoot up.
After several weeks of moderately elevated spore counts there is a real risk of accumulative subclinical liver damage occurring in your stock. The most reliable way to protect your stock is by Zinc administration, this protects the liver from the Sporedesmin toxin released by the fungal spores so will reduce liver damage and secondary signs of photosensitization. Minimising the number of spores ingested by your stock through pasture management and quality fungicides can significantly reduce eczema symptoms.
Attached are the counts received so far, the counts will be updated and distributed weekly and if you would like an accurate paddock count please bring in a bread bag of grass to be tested.